The Serbian daily Blic published an article about the Petrovaradin Fortress, in which there is speculation about a possible underground tumulus that passes under the Danube to the Novi Sad side. For that reason, their journalist also talked to academician Veljko Milković, as a great connoisseur of the Petrovaradin fortress and a man who mapped the entire underground of this magnificent building, which is a symbol of Novi Sad.
The article is published in Serbian language, so the follownig text is a full translation of the published article:
The Danube and the underground of the Petrovaradin Fortress hide the greatest Novi Sad mystery about the existence of a tunnel under the river that connects the fortress and the city center.
The legend of the tunnel has been retold among Novi Sad residents for decades. There are dozens of versions of what it looks like, how it was built and where exactly it goes. The most common is that it used to connect two churches - St. George in Petrovaradin and St. John Nepomuk in Novi Sad, which used to be on the other side that was demolished and today there is a monument "Family" on that place.
The people of Novi Sad often connect the secret tunnel with the island fortress, which sank in the first half of the 19th century and was located on the then War Island. The latest legend says that in 1913, a married couple of doctors went through a tunnel under the river, and the whole story was fueled by the eminent architect Miroslav Krstonošić with a recent statement that he personally went through the tunnel under the Danube.
Of course there is a tunnel. I went through it in 1955. At the clock (at the Petrovaradin Fortress, ed.), You go down, there is an entrance, and the exit is at the "Family" monument. It is now collapsed and neglected because it is made of boiled lime without thermal insulation, and everything has a lifespan. It needs to be cleaned, strengthened and that shape taken out again - Krstonošić stated for the Mojnovisad portal.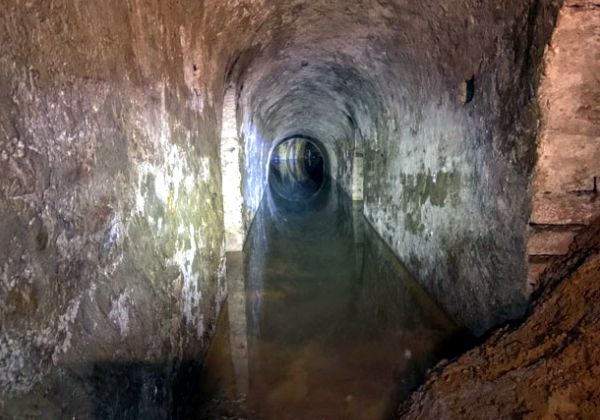 However, academician Veljko Milković, who has been actively researching the Fortress since the 1960s and has been searching for the mysterious tunnel since then, says that it has not been confirmed that it exists, but it is not that it does not exist.